Burgundy Wine and Japanese Cuisine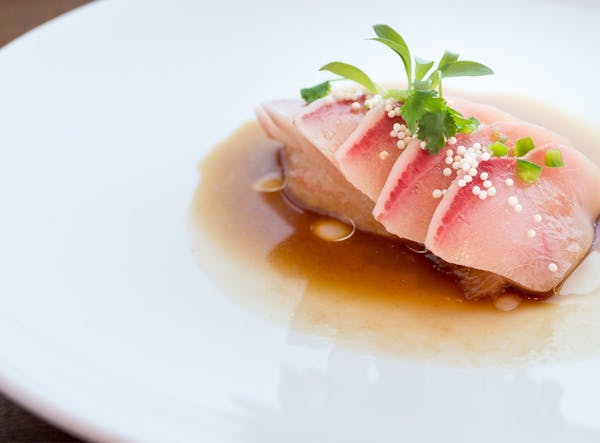 In the 90's, I started pairing Burgundy red wines with Japanese food. I thought that the delicate tannins in burgundy reds helped define the elusive umami in Japanese food. And by tannins leaving the wine to pair off with umami, it unlocked the hidden flavors of the wine. The result was like a savory flavor of fish coming back on your palate holding a bouquet of fresh and exotic flowers. Philosophically speaking, I think wine making in Burgundy region and Japanese cuisine is essentially the same. Both practice the idea of refining what nature has to offer to show its true and best quality, rather than to "create the taste". In Burgundy, they say the "expression of the terroir" in Japan, we say "to give life to the ingredients".
Back then, I was just having fun with my wine friends but one day an article came out on Wall Street Journal about my efforts. The article itself was fairly written quoting those who have tried it (and liked it) and those who did not. But the article ended with a quote from some wine guy in Boston saying "I've never tried it but I think it would be a waste of a good burgundy bottle". I was a bit ticked off by it and so I decided to bring Sushiko staff to France and cook for the winemakers themselves. Let them tell me themselves if its waste of their wines! Needing guidance of how to go about inviting the wine makers, I spoke with my friend Becky Wasserman, who is a bit like an Ambassador of burgundy wines and who also lives in Burgundy. Becky, without even trying the pairing herself, embraced the idea and told me that normally no one will come to such event but if she hosted it, the winemakers would have to come. So we decided to do it on one Sunday in November for lunch. I believe it was 1999.
When the day came, I thought to my self, "what the hell did I get myself in to?" The wine makers came with their own wines of course, but they were all visibly uncomfortable, some were down right angry. Burgundian wine makers are not the sort who masks their feelings when it comes to wines or food. Most of them came to me and actually told me that this is going to be a disaster! Of course it helped that I did not understand French back then. To make matters worse, since I did not know which wines from their portfolio each of the 6 wine makers would bring for the event, I had to taste them on the spot and pair them with our food. When I was done choosing the order in which these wines will be served, Becky came to me and politely asked me if I might had miss communicated the order of wines with the staff. I told her I did not. Well that did not go well with the guests as I have put some Grand Cru wines before 1er Cru wines. That is never done in France! "What a savage!" must have thought the guests. But I was more interested in the emergence of the third character the sum of wine and the food pairing, and its progression as the story unfolds rather than just the progression of wines or food alone. Of course the fact they all brought fabulous wines helped. (I knew they were not going to bring wines that did not show well to the event, after all, there are other wine makers there!)
By the time Becky introduced me and I gave my simple explanation of what my idea is about, we began. By this time, the crowd was super skeptical and rather upset. As a result when the first course was served, no one uttered a word or even a sound. Second course, a little murmur was heard in the dinning room. People were looking at each-other as if to say "do you taste what I'm tasting?" Third course, an explosion of complimentary adjectives! After the sixth course was all mopped up, all the winemakers got up and sang a burgundian harvest song in our honor! I had to hold back my tears…
Because of the overwhelming response, we did the same event for few years in a row after that. Always inviting different wine makers. Then the word spread and our team was invited to Japan to do the same event for Berry Brothers & Rudd, a prominent wine merchant from London, we even did a gig at the James Beard House as well. The funny thing is one day in NYC, I was having a dinner at a restaurant and the proprietor spotted the wine I was having and started to tell me about this "Old Chef in Washington DC who started the pairing of burgundy wine and Japanese cuisine, I had to tell him that the person in question is not old!
Daisuke Utagawa